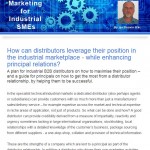 Our recent Newsletter discusses a plan for industrial B2B distributors on how to maximise their position – and a guide for principals on how to get the most from a distributor relationship, by helping them to be successful.
We believe that in the specialist technical/industrial markets a dedicated distributor (also perhaps agents or subsidiaries) can provide customers with so much more than just a manufacturers' sales/delivery service – for example expertise across the market and technical expertise in niche areas of application, not just of products. So what can be done and how? A good distributor can provide credibility derived from a measure of impartiality, reactivity and urgency sometimes lacking in large inter/national organisations, stockholding, local relationships with a detailed knowledge of the customer's business, package sourcing from different suppliers – a one-stop-shop, collation and provision of technical information.
These are the strengths of a company which are lent to a principal as part of the distributor relationship. In addition a distributor who drives their own marketing activities can deliver higher growth and profitability to the principal than a passive outlet – while doing exactly the same for themselves!
Our newsletter describes how a distributor – especially a small one – can approach this.
At The Industrial Marketing Agency we are used to working with the Distributor/Manufacturer relationship – ask what we can do for you.